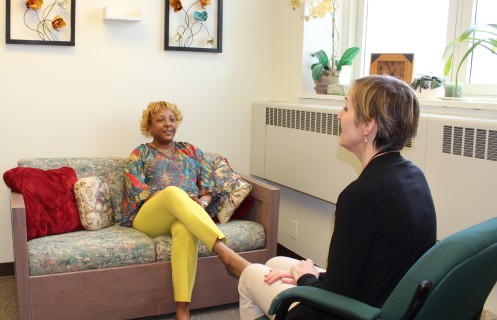 We know life can be challenging.
Claymont Counseling Services (CCS) is here to support your emotional well-being.
If you or a family member feels depressed or anxious, has difficulty with grief, loss, or divorce, or just feels stuck – we can help.
We offer:
Individual, couples, and family counseling
Counseling for children, adolescents, and adults
Smoking cessation programs: individual and group sessions for adults
"Families Moving Forward." This certified parent education class is required by state law for parents/caregivers involved in petitions for divorce, custody, and visitation issues.
Short-term counseling and case management services to students and families referred through Brandywine School District's intervention program.
Psychiatric Services
We offer psychiatric services for adults. Our psychiatrist provides one-on-one evaluations, medication management, and wellness support.
Our Staff
We are staffed by counselors with master's degrees in Social Work, Psychology, and General Counseling and a licensed psychiatrist. Our staff maintains the highest standards of professionalism and confidentiality and will work with you to coordinate care with other providers.
Hours
We are open Monday – Friday by appointment only. While a majority of our available appointment times are 9:00am - 5:00pm, we also offer weekday evening hours as availability allows.
Payment
We do not accept insurance. However, we strive to keep our fees low. When you schedule your first appointment, we will explain the cost of services. Financial assistance may be available. All payments are due at the time of service.
Organization Workshops
Are you looking to host a workshop on stress management, anger management, communication-skills building, or smoking cessation? We offer a variety of workshops to schools, businesses, and organizations to promote mental health in the community.
Volunteer Opportunities
Counseling professionals have the opportunity to use their skills in a caring, supportive environment and make a lasting impact in our clients' lives. To learn more about volunteering, click here.
Contact
For more information on Claymont Counseling Services and to schedule an appointment, contact Tomaro Pilgrim, Counseling Manager, at (302) 374-0697, or TomaroPilgrim@claymontcenter.org.
Sign up to receive Claymont Counseling Services' email newsletter to hear more about our services, new programs, and events.